Posted on
By River Colors Studio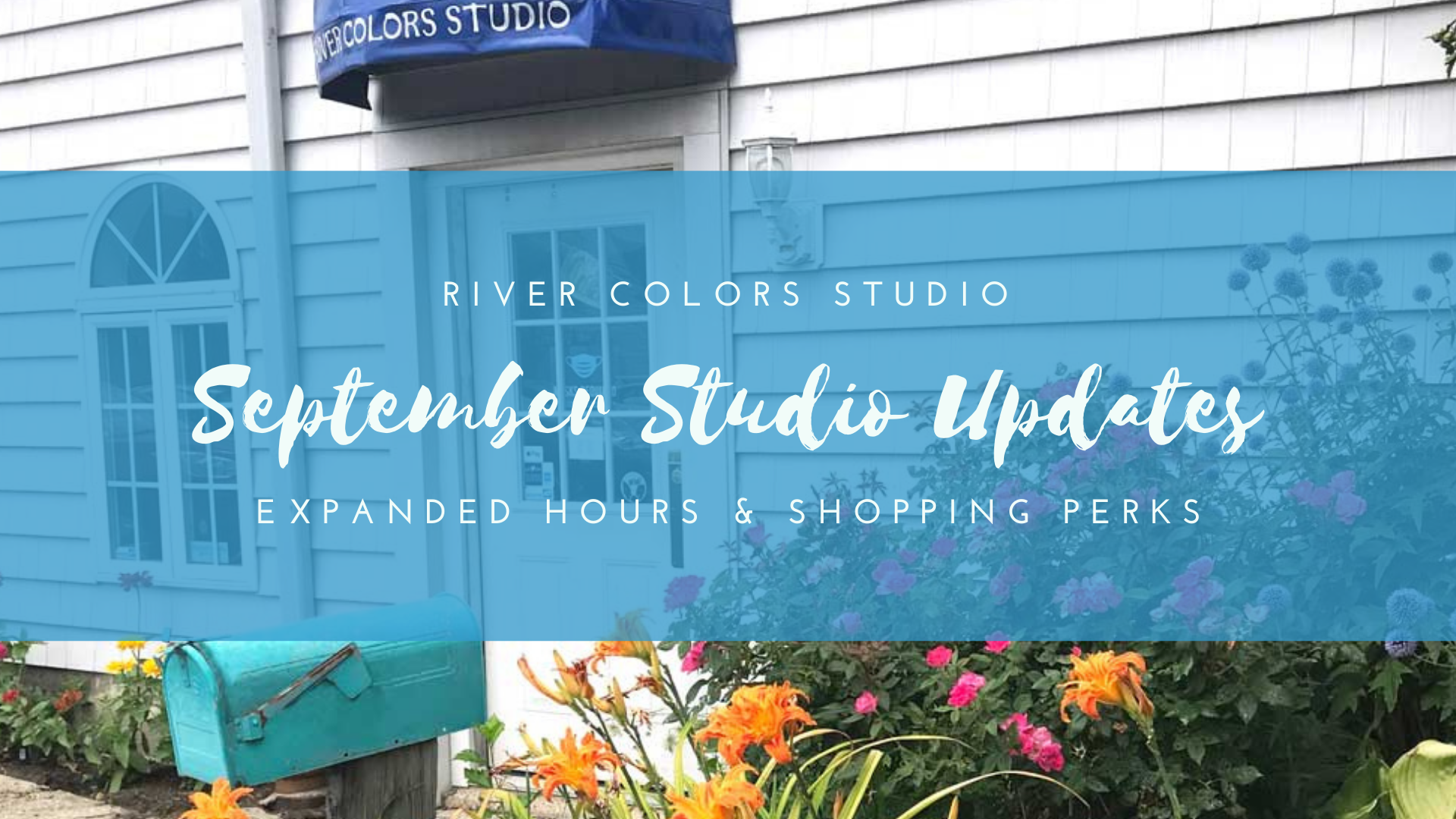 As we wrap up summer on the shores of Lake Erie, change is the air at River Colors Studio for the month of September. Here's a quick overview of things to look forward to this month!
Expanded Retail Hours
Starting Tuesday, September 8, 2020, we will expand our retail hours for the month of September. Please keep in mind that we are still very COVID-19 cautious at the studio and the new hours may change as needed at the end of the month.  Please call ahead if there is any doubt in your mind.
Tuesday, Wednesday, Thursday 12 pm - 5 pm
Friday & Saturday 11 am - 4 pm
Private Group Shopping
We have left the morning weekday hours available to schedule groups of up to 5 crafters that would like to shop together. We strongly encourage you to schedule a private shopping event for your group so that everyone will be able to enter the studio at the same time. To ensure the safety of our customers and staff, we have a customer limit of 5 in the studio at any given time.
To schedule your private group shopping event, please contact us at 216-228-9276 or email us at [email protected].
Perks in September
In addition to expanded retail hours in September, we thought it would be fun to throw in a few September shopping perks too!
Double Frequent Fiber Card credit for in-store purchases.
Free shipping on orders of $10.00 or more (no code needed).
---
Frequently Asked Questions
Do you offer classes?
Usually, we do, however, at this time the answer is no because of COVID-19 precautions.

Do you offer social crafting hours?
Usually, we do, however, at this time the answer is no because of COVID-19 precautions.

Can I stop by the studio for help on a project?
Usually, this would be okay, however, at this time we're not able to offer in-person project help because of COVID-19 precautions.

How do I get help on a project I'm working on?
Please bring your project in a sealed bag with your name, phone number, and email address included in the bag.  Include an explanation of what the problem is and when the best time is to get a hold of you. We will look at it after it has been quarantined in the studio for three days and be in touch with you.

Is everyone at the studio healthy?
As of today, the staff at River Colors Studio are all doing well. We continue to follow COVID-19 precautions and ask that you do the same when visiting the studio in person.

What do I need to know to shop in-person?
To enter the studio, you will need to use the door off of Matthews Avenue. We require all customers to properly wear a mask while in the studio, upon entering the studio you will need to sanitize your hands, and while in the studio you will need to maintain your social distance from staff and other customers. We have set our customer occupancy limit to 5 customers at any given time.

Is there an in-person shopping time limit?
Usually, no, we love to encourage you to touch, discover, and create. However, with our current COVID-19 customer limitation of 5 at any given time, we ask that you be mindful of others. If you anticipate needing an extended shopping timeframe, we encourage you to reach out to inquire about a private shopping event.

Are you participating in the Yarn Discovery Tour?
No, we are not participating in the tour this year.

Do you believe in voting?
Absolutely. Please everyone take voting seriously. Make sure you are registered and request to get your absentee ballot early.  Every vote is important!